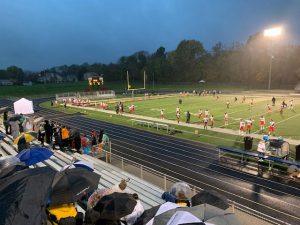 The East Central offense scored touchdowns on all five possessions in the second half as the Class 4A, No. 5 Trojans rolled to a 52-26 decisive victory Friday at No. 6 Mooresville.  This sectional semifinal win for EC avenged season ending losses to the Pioneers in each of coach Jake Meiners' first two seasons.  It also set the Trojans to host Martinsville in St. Leon next Friday for the sectional championship.
The five second-half touchdowns were all of the rushing variety, two by Ryan Brotherton (12 and 25 yards), one by Grant Ernst (30 yards), and two by Josh Ringer (24 and 2 yards).  Sophie Browndyke connected on all five extra points to account for the Trojans 35-point outburst.
The game did not start out well for East Central as the offense fumbled on its second snap of the game inside its own 10-yard line.  That set the Pioneers up for a quick score on a Nick Patterson 2-yard quarterback keeper.
A Browndyke 33-yard field goal on East Central's next offensive series got the Trojans on the scoreboard, trailing 7-3.  Then EC found pay dirt on its third offensive possession when Josh Ringer capped off a 76-yard scoring drive with a 3-yard scamper into the end zone.  That gave the Trojans a 10-3 advantage and a lead they never relinquished.
After a Jack Rinear interception got the ball back for East Central, quarterback Cole Burton found Ryan Brotherton on a beautiful 34-yard touchdown strike. Browndyke's extra point followed putting the Trojans on top 17-7 with 5:32 to play in the first half.
The Trojan D stalled a Pioneer drive deep in EC territory to limit Mooresville to a 32-yard Brian Hauck field goal with 1:41 left in the half. It was 17-10 Trojans at intermission.
East Central put together, arguably, its best half of football all season outscoring the hosts 35-16 over the final 24 minutes.
The win ups the Trojan record to 9-2 heading into next Friday's sectional championship matchup with Martinsville.  The Artesians knocked off No. 14 South Dearborn in convincing fashion Friday 38-7 to bring Martinsville into St. Leon with a 7-4 record.
You can hear all the action of the Class 4A Sectional 23 championship game on WRBI.
We thank Rob Moorhead for this edited report and for the picture.