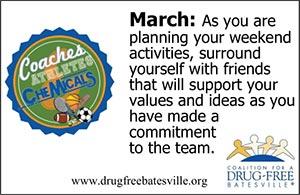 Coaches Corner is on The Sports Voice — Country 103.9 WRBI — Monday nights starting at 6 at Ison's Family Pizza, hosted by Hall of Famer Ron Raver.
CLICK HERE TO LISTEN TO PAST SHOWS
Upcoming Programs
March 25:  Denette Callahan – Batesville Dance Team, Tom Meyer – Batesville Golf, and Referee Roundtable with Ray Tebbe and Mike Wallpe.
April 1:  Lisa Barnett – Batesville Drama Department, Mark Wilder – OA Tennis, and Justin Tucker – Batesville Baseball.
April 8:  Doug Behlmer – OA Baseball, Lisa Gausman – Batesville Track,  Kevin Dines & Brandy Bastin – Milan Track, and Evan Ulery – Batesville Summer Football Program.
This schedule is subject to change!