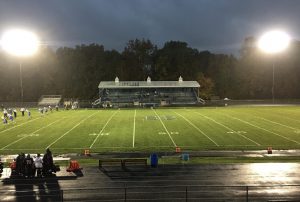 Brownstown Central quarterback Carson Darlage ran for three touchdowns and threw for another score as the sixth ranked and undefeated Braves ended Batesville's season with a 28-14 win at a rain-soaked Dog Pound Friday.
During the Class 3A Sectional 31 semifinal, BC forced a Batesville turnover.  Darlage later punched it in from the 1-yard line with 43 seconds left in the first quarter. Cooper Wolka added the extra point to give the Braves a 7-0 lead.
The Bulldogs got on the board with 1:11 to go in the second stanza when quarterback Travis Lecher hooked up with Bryson Bonelli for an 84-yard touchdown strike. The 2-point conversion try failed which left the visitors from Jackson County up 7-6 going into halftime.
Brownstown Central then went on to score 21 unanswered points in the second half before Batesville got back on the board late in the game.
On the first play from scrimmage after the break, Darlage hit Kiernan Tiemeyer for an 84-yard touchdown reception. The PAT was good and the Braves led 14-6.
Darlage's second rushing TD came with 11:56 to go in the fourth when he darted through the muck and mire to put the Braves on top 21-6 after the extra point.
Darlage's third and final score on the ground occurred when he galloped 65 yards with 8:44 left in the game to put BC up 28-6 after the fourth Wolka PAT.
The last touchdown of the night was from BHS when Lecher threw the final TD pass of his high school career and 17th of the season, a 15-yarder to Luke Wilson with 5:03 remaining. The two-point conversion try was good when Lecher found Bonelli in a crowd.
Final score, Brownstown Central 28 Batesville 14
The Bulldogs end their season at 6-5 and say goodbye to 13 seniors.
The Braves move to 11-0 and put their perfect season on the line next week when they travel to 3A-31 co-favorite and fifth ranked Lawrenceburg for the sectional championship after the Tigers won at Greensburg 15-7.
We thank our own Tom Snape for this edited report and the picture.