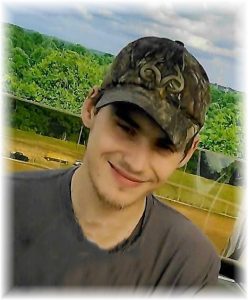 Brennan Patrick Konzelman, 23, of Greensburg, Indiana, passed away on October 27, 2021 at UC Health. He was born to Kimberly (Maness) Hoover and Darren Konzelman in Cincinnati, Ohio on October 20, 1998.
Brennan was currently employed at Honda (MPW) in Greensburg. He was an avid outdoorsman and enjoyed playing video games when he had time. However, his main focus in life was his daughter, Nella. Brennan loved his daughter and cherished his time spent with her.
Anyone who knew Brennan, knew he never took things too seriously. He seemed to always have a joke ready to make those around him laugh and smile.
It was certainly in his nature to want to help people when he could. Even in death, Brennan was able to do just that. He was able to successfully donate organs that could potentially save the lives of others.
Brennan is survived by his parents, Kimberly Hoover (Tim) and Darren Konzelman (Shana); daughter, Nella Ann Grace Konzelman; fiancé, Cierra Hermann; brothers, Bryan Maness (Paige), Brandon Maness, and Brogan Hoover; grandparents, Steve and Cathy Konzelman; and many aunts, uncles, and cousins.
He was preceded in death by his maternal grandparents, James and Ann Maness.
A visitation will be held on Tuesday, November 2, 2021 from 3:00 P.M. to 6:00 P.M. followed by a service at 6:00 P.M. all at Meyers Funeral Home.
Memorials in honor of Brennan can be given to his mother, Kimberly Hoover. The funds donated will be used to set up a fund for Brennan's daughter. They may be brought to services or mailed to: Meyers Funeral Home, P.O. Box 202, Batesville, IN 47006.
Please feel free to leave a memory or a message of comfort for Brennan's family in the online guestbook at www.meyersfuneralhomes.com.