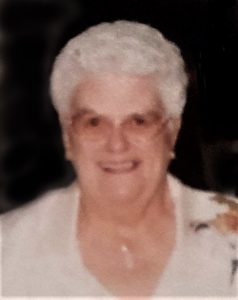 Linda M. Fortner, 88, of Versailles, Indiana, formerly of Aurora, IN, passed away Friday, October 29, 2021, in Milan, Indiana.
She was born August 6, 1933, in Aurora, IN, daughter of the late Carl Sylvester Wesemann and Elma (Kaiser) Wesemann.
She worked as a Clerk for Purdue Extension Office. She formerly attended Faith Lutheran Church in Madison.
Linda enjoyed crafts. She made many cross stitch items. She also enjoyed watching NASCAR, and collected NASCAR memorabilia, mostly Jeff Gordon. She liked cooking and baking. Linda was especially known for her big heart.
Linda is survived by her loving children, Thomas C (Gail) Fortner of Manchester, IN, Danette (Richard) Clift of Pendleton, KY, Berney (Sandy) Fortner of Huntington, WV, Monté (Rebecca) Mallory of Moores Hill, IN; sisters, Marian Bentle of Milan, IN, Jean Wesemann of Gulf Breeze, FL, Shirley Daugherty of Pensacola, FL; sister-in-law, Corrine Wesemann; 10 grandchildren; 16 great-grandchildren.
She was preceded in death by parents, Carl Sylvester and Elma Carolyn (Kaiser) Wesemann; Husband, Robert David Fortner; Brother, James E.Wesemann, sisters, Elain Luke, and Geanette Torokhanian and grandson, Robert David Fortner.
Friends will be received Thursday, November, 4, 2021 from 12:00 pm to 2:00 at the Rullman Hunger Funeral Home, 219 Mechanic Street, Aurora,IN.
Services will be held at the Funeral Home, immediately Following visitation at 2:00.
Interment will follow in the River View Cemetery, Aurora, Indiana.
Contributions may be made to the Charity of Choice. If unable to attend services, please call the funeral home office at (812) 926-1450 and we will notify the family of your donation with a card.
Visit: www.rullmans.com