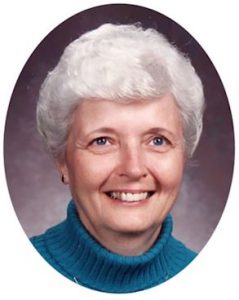 Sr. Carmela Whitton, age 90 of the Srs. of St. Francis in Oldenburg, died Sunday, February 26, 2023 at the convent.  Born February 3, 1933 in Cincinnati, she is the daughter of Norma (Nee: Menning) and Alton Whitton.  She taught for 20 years at schools in Indiana and Ohio before transitioning into pastoral care for several parishes in Michigan, retiring in 2009.
She is survived by her brother Jerald as well as numerous nieces and nephews.  In addition to her parents, she is also preceded in death by her stepmother Margaret Whitton, brothers Donald and James and sisters Marjorie and Marianne.
Visitation is Monday, March 6th from 10 – 11 a.m. at the convent chapel.  Funeral services follow at 11 a.m. with Rev. Ken Overberg officiating and burial in the convent cemetery.  If unable to attend, the service will be live-streamed at https://youtu.be.com/live/-wkl9wAoGwE?feature=share.  Memorials may be made to the Srs. of St. Francis, P.O. Box 100, Oldenburg, Indiana, 47036 (www.OldenburgFranciscans.org).  For complete notice and online condolences go to www.weigelfh.com.