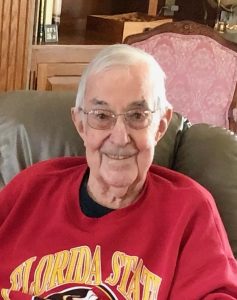 Joseph Paul Westhafer, beloved husband, father, grandfather, and great-grandfather, passed peacefully at home after valiantly battling a long illness, surrounded by loved ones.
Born in Greensburg to Alden and Dorothy (Kuhn) Westhafer on May 26, 1936, Joe grew up playing basketball and working on the farm. A 1954 graduate of Greensburg High School, he was a four-sport varsity athlete (football, baseball, golf, and basketball) and set a single-season basketball scoring record his senior year during which he was elected All-State Honorable Mention.
He had a full-ride scholarship to play basketball at the University of Cincinnati and then Florida State University.  Inducted into the Florida State Hall of fame, Joe was a varsity athlete, Assistant Director of Westminster Fellowship, and President of Sigma Chi Fraternity, among many other achievements. The most important thing that happened for Joe while he was at Florida State was meeting his wife Anne Bragdon.
In 1959, Joe graduated from Florida State and attended Union Theological Seminary before deciding to become a high school English teacher. From 1960-1962, he served in the U.S. Army as an Executive Officer in Ft. Jackson, SC before being stationed in Korea. After that, he was Company Commander with the Indiana National Guard.
From 1962-2001 Joe was owner and partner in Indiana Wire Products. Joe was a member of the First Presbyterian Church in Greensburg where he was elected Ruling Elder in 1963. He served as the first Moderator of the Whitewater Valley Presbytery from 1973-1974. Joe was actively involved in the community, taking leadership roles in many organizations. He was especially active with Big Brothers Big Sisters, Library Board, and local politics. In 1998, he was awarded the Sagamore of the Wabash. This is the highest honor bestowed by a sitting Governor of Indiana, presented to people who have rendered distinguished service to the state.
The most important part of his life, though, was his family. Joe and Anne married in 1959 at Southside Baptist Church in Jacksonville, FL. To Joe, his proudest achievement was his 63-year marriage. He was forever grateful for Anne, who he described as a faithful wife and a wonderful mother. He was proud of his four children Mike (Robin) Westhafer, Kathy (Bill) Duncan, Pam (Clay) Smith, and Susan (Naoyuki) Furukawa and the way that each of them pursued their dreams and achieved their goals.
Besides his immediate family, Joe is also survived by 9 grandchildren—Yukie, Jessica, Meghan, Allison, Audrey, Gabriel, Lucas, Clare, and Nicolas–and three great grandchildren, Clover, Honey, and Sophie. His four siblings, Barb, Tom, John, and Dottie, and many nieces and nephews also survive. He is pre-deceased by his parents, his older brother, Jerry, and John Wayne.
Visitation for family and friends will be held on Friday, March 3, 2023, from 11 to 1:00 p.m. at the Porter-Oliger-Pearson Funeral Home in Greensburg. Funeral Services will follow at 1:00 p.m. with Reverends Garrett and Marena Vittorio-Schindler officiating. Interment will follow at the South Park Cemetery in Greensburg. In lieu of flowers, please send donations to the First Presbyterian Church of Greensburg, Indiana, Our Hospice of South Central Indiana, or a charity of your choice.  Online condolences can be made to the family at www.popfuneralhome.com