On Tuesday night, Milan survived a late comeback by Switzerland County to defeat them 59-56  and advance to the Sectional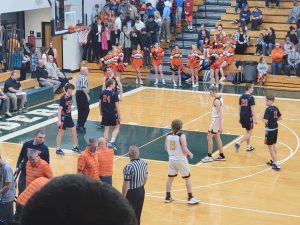 Semi-Final.
Milan led by as many as 9 in the game before Switzerland County made a comeback that would fall just short, missing two 3-point shots in the final seconds.
Kohen Rinear was the leading scorer for the Indians with 16 points.
Box Score
Milan                             11    19    13   16 = 59
Switzerland County    11      9    11   20 = 56
Milan improves their record to 9-15 and will play 11-12 Hauser in the 2A Sectional Semi-Final at South Ripley Friday night. Tipoff is scheduled for 7:30p.
You can listen to the game in its entirety by clicking here.