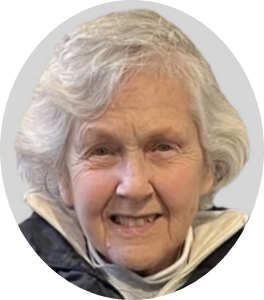 Ruth M. Siefert, age 85 of Batesville, Indiana, passed away Saturday, September 23, 2023, at her home surrounded by her family. Born January 18, 1938, she is the daughter of Anna (Nee: Rosfeld) and Leo Theobald. She married Quirin (Mike) Siefert on May 30, 1961, at St. Mary's of the Rock Catholic Church and he preceded her in death on February 25, 1979. She was a member of St. Louis Catholic Church and its Ladies Society.
Ruth was raised in St. Mary's of the Rock and lived in Batesville. Her focus in life was raising her three children in the Catholic faith on the family farm and teaching them a good work ethic.
Ruth retired from Hill-Rom after 30-plus years. To keep active, she also worked at Batesville Schools, and Hillcrest Country Club. She volunteered at St. Louis School and St. Louis Church. Recently, Ruth spent time volunteering at the Batesville food pantry.
Ruth kept her home and farm immaculate and well-groomed. Ruth enjoyed gardening and flowers. Rarely did anyone visit without viewing her multiple gardens and leaving without vegetables, fruit or starts of flowers. She was proud of her garden and flowers being featured in a local garden/flower tour one year.
Ruth loved to dance; this was a lifelong passion for her. Square dancing and the chicken dance were among her favorite dances. Ruth always enjoyed Christmas music but did not enjoy decorating for the holiday.
Ruth enjoyed being with people, especially her 7 grandkids including their yearly park day.
Ruth always had a smile & a kind greeting to everyone she met.
She is survived by her daughter and son-in-law Anita and Paul Dieckmann of Danville, Indiana; sons and daughters-in-law Wayne and Annette Siefert and Tom and Angie Siefert, all of Batesville; sister Mildred "Millie" Cutter of Batesville; grandchildren Michael (Joelle) Dieckmann, Elizabeth (Ben) Geis, Daniel (Brenna) Dieckmann, Brooke (Ben) Stafford, Kent Siefert, Kyle Siefert and Kurt Siefert; great-grandchildren Kaylie, Huxley, Wrenley and Calvin; numerous nieces and nephews. In addition to her parents and husband, Ruth was preceded in death by her sister Thelma Eckstein.
Ruth's family would like to extend a special thank you to her Caregivers, "Team Ruth".
Visitation is Friday, September 29th, from 9 – 11 a.m., at Weigel Funeral Home in Batesville. The Mass of Christian Burial will follow at 11:30 a.m., at St. Louis Church in Batesville, with Fr. Carl Langenderfer OFM officiating. The burial will be at the church cemetery. In lieu of flowers, memorial contributions may be made to the Batesville Food Pantry or the Edelweiss House in Greensburg, Indiana. For online condolences go to www.weigelfh.com.