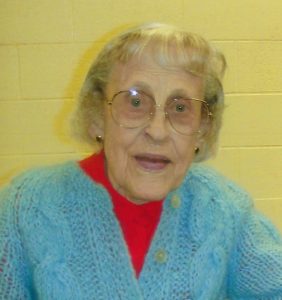 Norma Margaret Roberts of Batesville, Indiana passed away on Sunday, September 24, 2024 at St. Andrews Health Campus. She was a proud 102 years old.
The daughter of George and Ida (Busch) Kessens was born on February 19, 1921 in Batesville and graduated from Batesville High School in 1939.
Norma worked for the Central Trust Bank and served as the Secretary/Treasurer at St. Mark Lutheran Church for many years. She was a longtime member of St. Mark Lutheran Church in Batesville and the Order of the Eastern Star.
She is survived by her cousin Pam (David) Narwold. In addition to her parents, she was preceded in death by her brothers, Forrest Kessens, and Howard Kessens, and her sister, Margaret 'Margie' Kohlman.
Visitation will be Tuesday, September 26, 2023, from 12-2 p.m. followed by a 2 p.m. funeral service all at Meyers Funeral Home in Batesville. Pastor Jill Kepler Campbell officiating. Burial to follow in St. Mark Cemetery.
Memorials may be given to St. Mark Lutheran Church or Margaret Mary Health Hospice by bringing to services or mailing to Meyers Funeral Home, P.O. Box 202, Batesville, IN 47006.
Please feel free to leave a memory or message of comfort for family and friends in the online guestbook at www.meyersfuneralhomes.com.