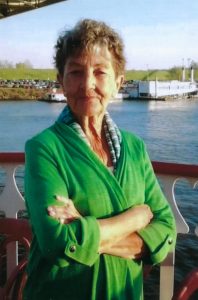 Betty J. Martin, age 85 of Batesville, Indiana passed away on Friday, September 22, 2023. Born on May 8, 1938, in Versailles, Kentucky, she was the daughter of Stanley and Jalia Jane (Hall) Redmon. She was preceded in death by her sister, Dot Cohen, and brothers, Robert Redmon and Ron Redmon.
She will be deeply missed by her children Randy (Shelly) Britton, Gary (Cindy) Britton, Peggy (Richard) Wanamaker, Barry (Debbie) Britton, John Powell; grandchildren, Nicole (Chris) Alvarez, Sarah (Andy) Ciarniello, Jason (Erika) Britton, Nicholas Wanamaker, Jim (Rachel) Moorman, Devin (Sam) Linette, Zach Britton, Riley Powell; and great grandchildren, Negan, Everleigh, Eli, Asher, Wyatt, Levi, August, Noah, Selah and Jude.
Betty will always be remembered as the most loving, kind, and giving mother, best friend, and Gram. She was always ready to comfort you, feed you, or make you laugh. She loved plants, reading, puzzling, picking up shells on the beach, collecting cups, and Facebook. She was fiercely loyal and always willing to sacrifice for those closest to her. Her life shaped multiple generations of our family and made an impact on us like only a life well lived could make.
Her wishes were to be cremated.
Please feel free to leave a memory or a message of comfort for Betty's family in the online guestbook at www.meyersfuneralhomes.com.