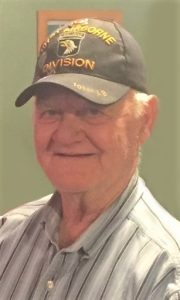 Robert McClellan Buffington, 82, of Aurora, Indiana, passed away Thursday, December 30, 2021.
He was born May 23, 1939, in Aurora, Indiana, son of the late George B. McClellan Buffington and Rachel (Bowker) Buffington.
He served his country as a member of the United States Army in the 101st Airborn as a Jump Master.
He worked in maintenance for Group Health Associate, retiring after over 15 years of service.
He was very passionate about the city of Aurora, his ancestors were some of the first to live here. He was a longtime member of the Aurora Eagles and Aurora Moose Lodge. He was a volunteer with the Aurora Fire & EMS, as well as former Aurora City Councilman and police dispatcher.
Robert loved his dogs, he especially loved his Min Pins, and he could often be seen walking through town with his dogs. He was a jokester and a story teller. He loved time with his family and friends and he will be greatly missed.
Robert is survived by his loving spouse, Judy (Vastine) Buffington, children, Robert G. (Blaire) Buffington of Aurora, IN, Mary (Matt) Schwarz of Greendale, IN; grandchild, Brittany Schwarz; step-daughter, Candida (David) Mitchell of Aurora, IN; 10 step-grandchildren, and several great-grandchildren.
He was preceded in death by parents, George & Rachel; previous wife, Sandra Buffington; sisters, Jacqueline Donley, Margie Thomas; daughter, Laura Jean Buffington; step-son, Glenn Miller; step-daughter, Melinda Kincade.
Friends will be received Wednesday, January 5, 2022, 11:00 am – 2:00 pm at the Rullman Hunger Funeral Home, 219 Mechanic Street, Aurora, IN.
Services will be held at the Funeral Home, at 2:00 pm.
Interment will follow in the River View Cemetery, Aurora, Indiana. Military graveside services will be conducted by the Southeastern Indiana Honor Guard.
Contributions may be made to the family. If unable to attend services, please call the funeral home office at (812) 926-1450 and we will notify the family of your donation with a card.
Visit: www.rullmans.com