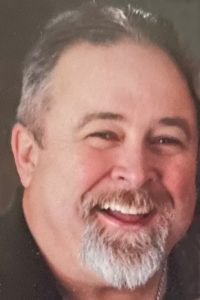 Marshall Jones Jr., of New Lisbon, Wisconsin, son of Thelma Jones and the late Marshall Jones, passed away in Kenosha, Wisconsin on December 26th, 2021.
Marshall "Marty" was born in Missouri and recently resided in New Lisbon, Wisconsin, although he spent most of his adult life in Cincinnati, Ohio and Osgood, Indiana.
Marty began his career as a gas inspector right after high school and later retired after dedicating 37 years to Duke Energy. He enjoyed fishing, hunting, motorcycle rides, bonfires with family, hiking, watching Wisconsin sports teams, and playing backgammon with friends. He was an avid gun collector and supporter of the NRA and enjoyed teaching his grandchildren about politics.
Marty is survived by his mother Thelma Jones of New Lisbon; In-laws Don and Jean Hicks of Cincinnati; children, Jennifer (Trevor) Asche of Dillsboro, Tom (Jamie) Jones of Versailles, Kelli (Joel) Carter of Dillsboro, Adam Jones of Osgood; grandchildren: Dylan, Brayden, Kylie, Landen, Lilly, Blake, Jaxen, Preston, Brigham, Jacob, John, and Sam; sister Sherri Carmack of New Lisbon, brother Scott (Debbie) Jones of Kenosha, brother-in-laws, Mark (Bev) Hicks, Robbie (Liz) Hicks, Dean Hicks, Jay (Rebecca) Hicks, Curt (Leanne) Hicks, Gary (Gina) Hicks, Ron (Michelle) Hicks, sister-in-laws Jan (Steve) Hale, Donna (Rick) Neville, Joy (Joe) Neurohr.
He was preceded in death by his loving wife Paula Jones; his father Marshall Jones, and his daughter-in-law Kristina Jones.
A memorial visitation will be held on Friday, January 7, 2022 from 4:00-7:00 pm at Rullman Hunger Funeral Home, 219 Mechanic Street, Aurora, Indiana.
A Celebration Of Life will follow at 7:00 pm.
Contributions may be made to the family to defray expenses. Checks can be made to Jennifer Asche. If unable to attend services, please call the funeral home office at (812) 926-1450 and we will notify the family of your donation with a card.
Visit: www.rullmans.com <http://www.rullmans.com>