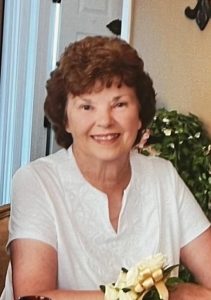 Scharf, Patricia (nee Cleary). Beloved wife for 55 years of Harold Scharf. Loving mother of Jeffrey (Denise) Scharf and Scott Scharf. Cherished grandmother of Nathan, Ben, and Stephanie Scharf. Dear daughter of the late Paul and Mildred (nee Kemme) Cleary. Sister of the late Dennis Cleary.
Pat was born on July 18, 1947, in Cincinnati, Ohio. She went to St. Catharine Grade School in Westwood for 8 years. She graduated from Mother of Mercy High School in 1965. When her boys were growing up, she was active in the St. Martin School PTA in Cheviot, Ohio. She was vice president for two years and president for two years.
She worked at Provident Bank as a teller for 18 years, working in Northside, Western Hills Plaza, and Cheviot. Upon leaving Provident Bank, she worked at Hattings Market, Miami Whitewater Park, and Rahn's Greenhouse until retiring.
When the Scharfs moved to Sunman, Indiana, Pat joined the Sunman Beautification Committee and eventually became president. She was recognized as the Sunman Chamber of Commerce Citizen of the Year in 2016.
She was also in charge of the St. Peter Parish Giving Tree at Christmas for several years.
Her hobbies were walking her dog, picking up trash, and in her younger years, riding her horse, Sunny who she owned and rode for 18 years.
She leaves with these words, "God Bless America".
Pat passed away peacefully at her home surrounded by her family on Friday, September 15 at the age of 76. Visitation Wednesday, September 20th from 5 pm-7 pm at Neidhard-Minges Funeral Home, 10385 New Haven Rd Harrison, Ohio 45030. A Funeral Mass will be held on Thursday, September 21st at 10:30 am at St. Peter's Catholic Church, 1207 E Rd, Brookville, IN 47012. Burial to follow in the church cemetery.
Memorials may be made to Oxbow, Inc. P.O. Box 4172 Lawrenceburg, IN 47025, or Tunnels to Towers, 2361 Hylan Blvd Staten Island, NY 10306.