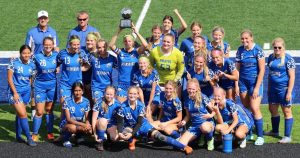 Smith Plus Rich Hat Tricks Lead Greensburg Lady Pirates to Victory Over Rushville Lions in The Battle For The Ball 7-1
The Pirates hosted the Lions for their senior night. This game was also the annual Battle for The Ball. Senior Captain Shelby Forkert, Senior Captain Malana Kramer, and Senior Shelby Able were recognized. Forkert, Kramer, and Able are four-year team members while Kramer is a two-year member. They all contribute to the team at a high level and will be missed on the team next year.
Kramer assisted two of Freshman Kadence Rich's goals. Rich would go on to complete her second Hat Trick for the season. Rich also claims the highest-scoring freshman that was previously held by Maddi Helmich at 7. Rich has 10 goals on the season.
Forkert would lend an assist to Junior Captain Genevieve Smith who also earned a hat trick plus a goal. Smith would also have a throw-in assist for one of Rich's goals. This is Smith's second hat trick of the season as well.
The Pirate defense only allowed two shots on goal. Keeper Madeline Shrader started the game and played the first half. She would not see any shots on goal. Emma Hostetler started the second half for the Pirates. She would see two shots on goal and allow one to settle on the scoreboard. For most of the game, the defensive stand was led by Malana Kramer, Shelby Able, Emma McQueen, and Jaylin Thornton.
This brings the Pirates to 4-6 on the season and 1-2 in the conference. The ladies travel to Franklin County to face the Wildcats on Thursday, September, 21, Game time is 5:30 pm.
Submitted by the school's athletic department.