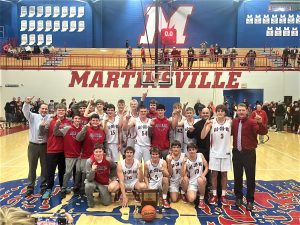 Coming up Saturday from the 8200-seat Lloyd E. Scott Gymnasium in Seymour, the 10th ranked Jac-Cen-Del Eagles will take on the No. 2 North Daviess Cougars in the 1A Boys Basketball South Semi-State.
The Eagles enter play at 22-5, undefeated champions of the ORVC and winners of 12 straight.
Jac won its 14th sectional and first since 2015 posting victories over Rising Sun, Waldron and Hauser, then claimed its fifth regional and first since 2009 with defeats of No. 8 Bloomfield and No. 9 Indianapolis Lutheran.
In '09, JCD went on to capture the program's only state championship.
Second year coach Clint Bohman's boys are averaging 66 points a game which is ninth best among Class A schools.  Jac gives up 55 a contest and their opponents' combined win percentage is .498.
The Cougars are currently 25-3, co-champions of the Southwestern Indiana Conference at 6-1 and winners of eight consecutive games.
North Daviees won its sixth sectional and first since 2016 posting Ws against Washington Catholic, Shoals and No. 4 Barr-Reeve, then gathered its third regional and first since 2011 with vics over No. 7 Edinburgh and No. 16 Borden.
ND has never won a semi-state nor a state title.
Coach Brent Dalrymple is in his 22nd season with the Cougars and won his 300th career game on December 30th against Paoli.  His kids from Elnora score 50 a game and give up a stingy 37.  That's the third best scoring defense in the entire state.  Their oppositions' combined win percentage is .596.
The one common opponent between the Eagles and Cougars is Bloomfield.  Jac-Cen-Del beat the Cardinals in the regional semifinal 63-54 while the Cougars lost to the Redbirds 41-37 during the regular season. That led to a three-way conference title split between those two schools and Linton-Stockton.
Jac-Cen-Del and North Daviess have only met one other time and that, ironically, was in the 2009 semi-state.  Jac won 38-32.
The Sagarin Computer Ratings give a six-point statistical edge to North Daviess with a score of 79.7.  That's third best in Class A.  Jac-Cen-Del's rating is up to 73.6, good for eighth in 1A.
You can hear the 1A South Semi-State Saturday on Country 103.9 WRBI beginning at 3:20 pm with the pregame show.  It's also available on line at WRBI Radio dot com and on your smart phone with the free TuneIn app.
We thank John Harrell and Jeff Sagarin for information used in this article.