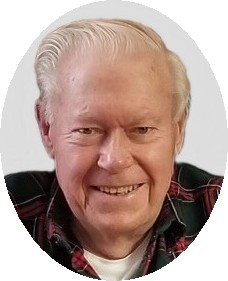 Millard F. Bossert, age 93 of Batesville, Indiana, died Tuesday, May 9, 2023 in Waldron, Indiana.  Born April 9, 1930 in Clarksburg, Indiana, he is the son of Annebelle (Nee:  Littrell) and Roy Bossert.  He married Mary Schoettelkotte on August 26, 1961 at St. Louis Catholic Church in Batesville.
He was an autoworker for the Ford Motor Co. in Connersville and a member of the United Autoworkers, before retiring.  Millard was a Navy veteran and a member of the St. Leon American Legion Post #464.  He was a member of St. Louis Catholic Church and an active member of the Knights of St. John Commandery #243, where he held the office of Financial Secretary.
Millard loved to put out a garden and enjoyed the vegetables that he grew.  He liked making homemade wine and spending time sitting on his deck enjoying the time outdoors.  He was a Cincinnati Reds fan and enjoyed golfing, bowling and working on puzzles.  "According to his family, Millard was a pretty good handyman that if something was broken, he could fix it!"  His true passion though was his family, especially over the years watching his children and grandchildren at their sporting events.
He is survived by his wife Mary of Batesville; daughter and son in law Melinda and Larry Haunert of Waldron; sons and daughters in law Michael and Jean Bossert of St. Peter's, Indiana, Mark and Darlene Bossert of Lakeside Park, Kentucky; sister Carolyn Kestler of Napoleon, Indiana; grandchildren Christopher (Adrian) Haunert, Patrick Bossert, Laura Haunert, Claire Bossert and Maria Bossert; one great grandchild on the way.  In addition to his parents, he was preceded in death by his brother William Bossert.
Visitation will be held Friday, May 12th, from 9 – 11 a.m. at Weigel Funeral Home in Batesville.  Funeral services follow at 11:30 a.m. at St. Louis Catholic Church, with Rev. Stan Pondo officiating.  Burial will be in the church cemetery, with military graveside rites conducted by the St. Leon American Legion Post #464.  Memorials may be made to Our Hospice of South Central Indiana or to St. Louis School.  For online condolences go to www.weigelfh.com