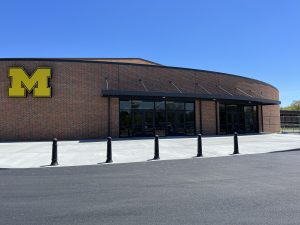 (Milan, IN) – Milan High School will take the wraps off its newly renovated gym lobby at an Open House on Monday, May 15 from 5:30-6:30 pm.
"This will give community members an opportunity to walk through the new area prior to Milan's graduation ceremony on May 27," said Milan Schools Superintendent Jane Rogers.
The new lobby has a spacious entrance, with enlarged concession and restroom areas to better accommodate fans.
There is also an area designed especially for trophies, such as the 1954 State Basketball Championship trophy.
The lobby also includes a mural featuring sports champions.
A dedication ceremony will be held Saturday, June 17, at 1 pm.
Members of the Milan 1954 team have been invited to participate in the dedication, as well as the Poole Group construction managers, and Kovert Hawkins architect firm.
"We continue to enhance our facilities at Milan with wise use of taxpayer dollars," said Rogers.
She extended thanks to the Milan School Board and administrative team for their planning efforts during the building process.