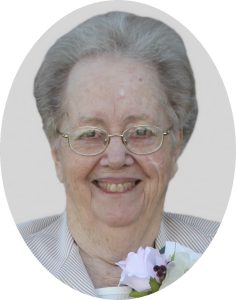 Mary "Joyce" Harmeyer, age 90 of Batesville, Indiana died Tuesday, June 6, 2023, in South Bend, IN.  Born June 11, 1932, in Cincinnati, Ohio she was the daughter of Theodore and Mary (Leonard) Neiheisel.  She married Lester Harmeyer on August 1, 1959, at St. Mary's of the Rock Catholic Church, near Batesville, IN.  Les preceded her in death in 1991.
Joyce was a homemaker and with her husband she co-owned and operated Harmeyer Fertilizer from the late 1960's until his death.  She loved crossword puzzles, jigsaw puzzles and crocheting.  Her favorite activities were sharing time and stories with friends and family.
Joyce is survived by her daughter, Ella Sue Harmeyer of South Bend, IN; sons and daughters-in-law Tom (Debra) Harmeyer of Fountain Hills, AZ; and Ted (Angie) Harmeyer of Batesville, IN; grandchildren include Jenna Harmeyer; Taylor (Hannah) Putnam-Johnson; Grant (Valerie Uhte) Johnson; Jason (Carrie) Peacock; Katie (Paul) Grzegorczyk; bonus grandson Ben (Han) Reineking; and 9 great-grandchildren.  In addition to her husband, she was preceded in death by an infant daughter Mary Jennifer, and grandson Tommy D.
Visitation will be held Tuesday, June 13, from 4 to 7 pm at Weigel Funeral Home in Batesville.  Funeral services will be Wednesday, June 14 at 10:00 am at St. Mary's of the Rock Catholic Church, near Batesville, IN. with Rev. Carl Langenderfer officiating.  Burial will be in the church cemetery.  Memorials may be made to St. Mary's of the Rock Church Preservation Society/Cemetery Fund.  For online condolences go to www.weigelfh.com