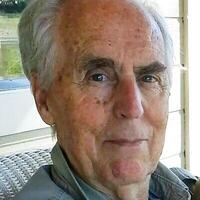 Edward Purkey, 89, of Camino, California, died peacefully, January 26, 2023, surrounded by family. He was born in Hamilton, Ohio on April 16, 1933 to James Purkey and Alice King (Purkey). Edward married Dorothy Kunkel on October 17, 1953, at St. Peters Catholic Church in Brookville, Indiana.
Edward was a proud Air Force veteran who served two enlistments before moving to a quieter civilian life. After his service, Edward and his family moved to Southern California where Edward ran a used car sales business. In 1988, their dreams lead them north where they would settle in Camino, CA in a home he would lovingly call "The Farm". In town, Edward and Dorothy would open a video rental store which they maintained through their retirement in 1994. There, you would often find him kicked back in his favorite chair reading the daily newspaper. Edward loved music, and always had an ear for it. He had the ability to hear a song and then play it out on an instrument. He loved classic country music and could often be found playing his harmonica or trumpet. Perhaps, more than anything, Edward loved spending time with his family, particularly on his farm. He loved his grandchildren, but he really had a soft spot for his great-grandchildren. Being able to watch another generation brought up on the farm gave him the greatest joy.
Edward was a beloved husband, father, grandfather, great–grandfather, brother, and friend. He will be missed dearly by all. He is survived by two children: Melinda Purkey (George) and David Purkey; four grandchildren: Matthew George, Rebecca Dolcini (George), Nicole Gocke (Purkey) and Christopher Purkey; eight great-grandchildren; Abbigayle George, Olivia Dolcini, Charlotte Dolcini, Emma Gocke, Easton Gocke, Colt Gocke, Presley Purkey, and Caden Purkey; and several nieces and nephews. Edward was preceded in death by his wife of 69 years, his parents, sisters Polly Crockford (Purkey) and Wilma Jane Reece (Purkey), and brother Charles Purkey.
A graveside burial service will be conducted at 11:00 on Thursday, June 15th, 2023, at St. Peters Catholic Church with Father Vince Lampert officiating. Military honors will be provided by the Brookville American Legion, Post #77.  Memorial contributions may be made to St. Peters Catholic Church or to the St. Peters Cemetery Fund.
For more information, send condolences, or sign the online guest book please go to, www.cookrosenberger.com. The Staff of Cook Rosenberger Funeral Home is honored to serve Edward's Family.