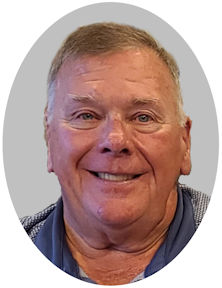 Mark H. Wenning, age 70 of Greensburg, died Monday, April 24, 2023 at his home.  Born May 18, 1952 in Greensburg, he is the son of Alvina (Nee: Gehring) and Leo Wenning.  He married Catherine Harpring July 23, 1977 at St. Catherine's of Siena Church at Enochsburg and was involved for over 40 years with several companies in the agriculture seed industry, retiring as General Manager of Nextgene Seed Company in Greensburg.  Among his greatest professional achievements was being elected the President of the Board of Directors of the Indiana Crop Improvement Association and receiving their Crops & Soil Merit Award.
Mark enjoyed many hobbies and activities.    An avid woodworker, he's been making heirloom furniture for years.  He also liked to garden, "tending to his babies" as he called it and like most gardeners fought an ongoing battle with squirrels.  He liked grilling and smoking food and he and Cathy have been making homemade wine since they married.
Mark also enjoyed boating, skiing, golfing and hunting.  A sports fan, he regularly attended his daughters' sporting events and then grandchildren's as they got older.  He was also a Purdue basketball fan…….until the first round of this year's March Madness.  Mark loved to travel and he and Cathy were fortunate to be able to take many trips. While it would be hard to pick a favorite, visiting the Glacier and Rocky Mountain National Parks were certainly at the top of the list.  In recent years, they began spending the winter months in Arizona.
He is survived by his wife Cathy; daughter Hillary (Brian) Wallpe of Batesville; brother Neil (Ginny) Wenning of Cincinnati; sister Anita (Vaughn) Kurtz of Homosassa, Florida; granddaughters Helen Wallpe, Mia Siefert; grandson Henry Wallpe: brother-in-law Chuck Penniston as well as several nieces and nephews.  In addition to his parents, he is also preceded in death by his sister Diane Penniston.
Visitation is Thursday, April 27th, from 4 – 7 p.m. at the Weigel Funeral Home.  Funeral services are 10 a.m. Friday, April 28th at St. Catherine of Siena Church at Enochsburg with Rev. Bill Ehalt officiating.  Burial will follow in the church cemetery.  The family is requesting memorials to the New Point Volunteer Fire Department. For online condolences go to www.weigelfh.com.