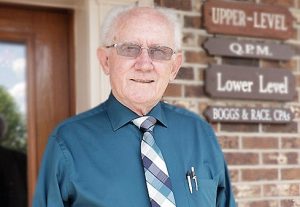 Mr. John L. Race, age 79, of Bear Branch, Indiana, entered this life on May 4, 1943, in Milan, Indiana. He was the loving son of the late John E. and Evelyn G. (Ecklar) Race. He was raised in Dillsboro, Indiana and was a 1961 graduate of Dillsboro High School. John entered the United States Navy on June 23, 1961. He served as a 2nd Class Aviation Metal Smith and was honorably discharged on June 22, 1965. John was united in marriage on September 5, 1969 to Judy Dennis at St. Peter Lutheran Church in Bear Branch. John and Judy shared over 53 years of marriage together and were blessed with two daughters, Heather and LeeAnn. John graduated with a BS degree from Indiana University in 1970 and an MS degree from the University of Cincinnati in 1972. He taught business at South Dearborn School Corporation from 1970 to 1980. In 1980, he began a new career as the administrator at Dillsboro Manor. John successfully passed the Certified Public Accountant examination in 1988 and opened his own public accounting firm in 1994. He continued to enjoy working at his office until he was no longer able in October 2022. During this time, he also served as a Director of the Friendship State Bank for many years. In 1990, he joined with his six friends to purchase Milan Health Care and build Ripley Crossing Health Care in Milan, where he spent the last six months of his life. John passed away at 5:11 a.m. Friday, April 14, 2023 at the St. Elizabeth Hospital in Edgewood, Kentucky.
John greatly enjoyed bluegrass music and played multiple instruments. He played in the bluegrass band "Rural Route 2" for 20 years. He and Judy enjoyed going to bluegrass festivals and RVing around the country. He also greatly enjoyed attending the sporting events of his two granddaughters and spending time with his family.
John was a member of many organizations: Hopewell Masonic Lodge in Dillsboro, Scottish Rite (32 Degree Mason), Shrine International- Murat Shrine, Indianapolis, SE Indiana Shrine Club, American Legion Post 292 in Dillsboro, Indiana CPA Society, American Institute of Certified Public Accountants, Kentucky Colonel, National Muzzle Loading Rifle Association, and St. Peter Lutheran Church in Bear Branch.
John will be lovingly remembered by his wife, Judy Race, of Bear Branch, his daughters, Heather Race of Bear Branch, and LeeAnn Boggs and her husband Mark of Vevay, IN, his granddaughters, Carlee and Claire Boggs. He is also survived by his sister Velma Race Peugh of Aurora, IN, a nephew Jeff Dickerson of Versailles, IN and many cousins and friends.
He was preceded in death by his parents, John and Evelyn Race, his father-in-law and mother-in-law Frank and Esther Dennis, his brothers-in-law, Basil Peugh and Everett Walton, sisters-in-law, Wanda Dennis Walton and Janet Walton, and great-niece Maggie Dickerson.
Family and friends may gather in remembering John from 4:00 p.m. to 7:30 p.m. on Wednesday, April 19, 2023 at the Filter-DeVries-Moore Funeral Home in Dillsboro and one hour prior to services on Thursday at St. Peter's Lutheran Church in Bear Branch. A Masonic Service will immediately follow at 7:30 p.m on Wednesday at the funeral home.
Funeral services will be held at 11:00 a.m. Thursday, April 20, 2023 at St. Peter's Lutheran Church in Bear Branch, 3958 Milton Bear Branch Rd, Dillsboro, IN 47018, with Pastor Mona Safley officiating. Full military rites will be provided by Northcutt-Laaker American Legion Post 292 of Dillsboro. Burial will follow at Marker-Althoff Cemetery. Memorials may be given in honor of John to St. Peter's Lutheran Church Cemetery Fund or the Shriner's Hospitals for Children Medical Center.
Filter-DeVries-Moore Funeral Home has been entrusted with arrangements: 12887 Lenover Street, Box 146, Dillsboro, IN 47018, (812) 432-5480. Please visit our website at www.filterdevriesmoore.com to share your condolences and memories of John.