The Batesville boys and girls track and field teams competed in the Bill Self Invitational Friday night at Franklin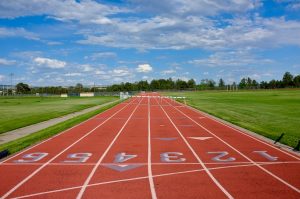 Community High School.
Boys Team Results
Perry Meridian 159
Franklin Community 150
Connersville 114
Jennings County 65.5
Batesville 65.5
Martinsville 36
Girls Team Results
Franklin Community 187
Batesville 145
Perry Meridian 124
Connersville 61
Jennings County 49
Martinsville 42
The Bulldogs had two individuals and two relays win championships at the meet.
Individually, Jake Chapman won the 3200-meter run in 10:04.75, and Ayden Eckstein won the high jump with a leap of 5'10".
On the relay side, the girls 4 x 800-meter relay team of Megan Allegeier, Kaylie Raver, Sophie Myers, and Ava Hanson won with a season-best time of 9:50.9. Also winning was the girls 4 x 400-meter relay team of Addison Luers, Kaylie Raver, Kam Dozier, and Ava Hanson, finishing with a time of 4:13.18.
Additionally, Batesville seniors Madelyn Pohlman and Blake Hon were both presented with the Bill Self Service Award.
Batesville will return to the track Thursday, April 20th, for the South Dearborn Invitational.
Submitted by the school's athletic department.