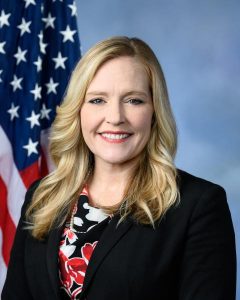 (Washington, D.C.) – Seven of Indiana's nine Congressional representatives voted in favor of the Fiscal Responsibility Act, also known as the bill to suspend the debt ceiling.
Among them was local Congresswoman Erin Houchin (R-09).
"I'm not completely satisfied with this bill, but it is far better than the alternative of defaulting on our debt or giving a blank check to President Biden and Congressional Democrats," Houchin said. "This bill will reduce spending, save taxpayer money, return able-bodied adults to the workforce through work requirements, rescind excessive COVID spending, require student loan payments to restart, reduce funding for the President's plan to expand the IRS, and above all, prevent the U.S. from defaulting on our debt."
Other Hoosier members of Congress who voted in favor of the bill were Frank Mrvan (D-01), Rudy Yakym (R-02), Jim Baird (R-04), Greg Pence (R-06), Andre Carson (D-07), and Larry Buschon (R-08).
Representative Victoria Spartz (R-05) voted against it, while Congressman Jim Banks (R-03) did not cast a vote.
The bill now heads to the Senate.