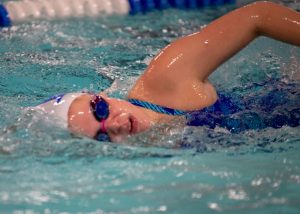 In high school swimming during the final week of 2021, Batesville swam in a double dual at Shelbyville.  The Bulldog boys beat Chatard 59-32 but lost to the host Golden Bears 60-33.  The Lady Bulldogs tied Chatard 49-49 and narrowly lost to Shelbyville 50-43.
BHS event winners included the boys 200 free relay of Sean Callahan, Matt Tekulve, Joseph Shroder and Will Johnson along with Maria Lopez in the 100 Fly.
East Central traveled to Oak Hills in Cincy to swim against the Highlanders.  The EC boys won 60-42 while the St. Leon ladies lost 56-46.
Nick Weber, Reagan Reany and Skyler Cavins all won two individual events for East Central. Fellow Trojans Sam Mittermeier and Tara Hall picked up one victory.  EC claimed three of six relays.
Unedited Batesville report from coach Greg McMullen:  The Batesville Bulldogs swam their way to a tie, a loss and a win in double dual action against the Golden Bears and Trojans on Thursday morning.
As the meet started, the Bulldogs came out relatively strong for being in the middle of one of the hardest weeks of the training schedule.
"Right now we're swimming pretty tired, but it's exactly what we want," said first-year assistant Sidney Howard, "with the times we have, we're headed in the right direction."
Junior Will Johnson echoed those sentiments following the meet, "this [meet] proves that our hard work is paying off. We can't wait until the end of the season meets to show what we're capable of."
The Bulldogs are definitely in the midst of a heavy training load, reaching some peak numbers in the weight room, and continuing to push their bodies and minds in the pool. "We're continuing to focus on technique, while also implementing some speed-specific drills within the programming to help reach out mid and end-of-year goals," said Coach McMullen. "As we continue towards conference we'll keep focusing in on these minor details to snag the low-handing fruit goal times while continuing to chip away at those more ambitions end-of-season times."
Overall, the Bulldogs came away with only 2 individual event wins thanks to the men's 200 free relay, and senior Maria Lopez, but they followed that up with 11 second-place and 7 third-place finishes to help keep the scoring close in both of the meet scores.
While the Bulldogs wrapped up the 2021 schedule tonight, they're looking forward to what's to come as they prepare for the Conference championship in the new year. The 2020-21 Bulldogs came away with a second place finish, and are looking to build on that while the Lady Bulldogs will look to improve on their fifth-place finish from last season.
TEAM SCORES
Men
Batesville 59, Bishop Chatard 32
Shelbyville 60, Batesville 33
Women
Batesville 49, Bishop Chatard 49
Shelbyville 50, Batesville 43
BULLDOG WINNERS
Men
200 Free Relay — Sean Callahan, Matt Tekulve, Joseph Shroder, Will Johnson
Women
Maria Lopez — 100 Fly
NOTABLES
The Bulldogs had 11 second place finishes and 7 third place finishers
Joseph Shroder dropped nearly 1.5 seconds off his prior 50 free PR from last season
This was the final meet prior to the calendar year and the last swim before the Bulldogs head to the EIAC Championship meet
Unedited report from East Central coach Brandon Loveless: EC took a break from winter training to visit the Highlanders from Oak Hills on Wednesday.  EC boys were victorious 60-42.  Girls lost 56-46.  Individual winners include:
Sam Mittermeier – 200 Free
Nick Weber – 50 Free, 100 Free
Reagan Reany – 100 Fly, 500 Free
Skyler Cavins – 100 Fly, 100 Breast
Tara Hall – 100 Back
EC won 3 of 6 relays.
We thank coaches Greg McMullen and Brandon Loveless for the information.