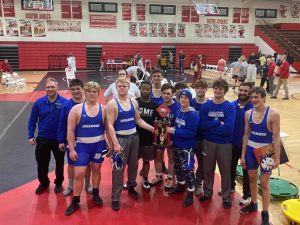 In high school wrestling over the holiday break, Batesville won the Franklin Invitational with five team victories on the day.  The Bulldogs beat Madison Grant (54-24), Scecina (54-12), Lutheran (48-18), Knightstown (54-6) and host Frankton (42-27) in the title pairing.
Seven Bulldogs had a perfect 5-0 slates led by David Maher who earned the tournament award for most pins with five. Also claiming five wins were Alex Murphy, Tacoma Nicholas, Damien Dance, Jy'lil Chappel, Chase Hamilton and Christian Garcia.
Connersville hosted the Mac Taylor Spartan Classic.  Portage won the 32-team event.  Locally, Connersville was 11th, Franklin County 14th, Greensburg 16th and Rushville was 21st.
Rushville reported its top finishers were Zaak Reed in sixth and Matthew Komlance in eighth.
Unedited Batesville report from coach Curtis Miller: BHS wrestling closed out 2021 by winning the Frankton Invite by going 5-0 on the day beating all opposing teams. 7 out of 10 varsity wrestlers went 5-0 individually.
The Bulldogs started the day by beating Madison-Grant 54-24. Alex Murphy, Tacoma Nicholas, David Maher, Damien Dance, Josh Mobley, Jy'lil Chappell, and Christian Garcia all won by pin while Chase Hamilton and Max Amberger won by forfeit.
The Bulldogs followed up with a 54-12 victory over Indianapolis Scecina.  Murphy, Nicholas, Maher, Mobley, Chappell, Hamilton, Garcia, and Amberger all won by pin while Dance received a forfeit.
Batesville's 3rd round ended in a 48-18 victory over Indianapolis Lutheran. Murphy, Nicholas, Maher, Dance, Mobley, Chappell, Hamilton, and Garcia all had 6 point victories.
The Bulldogs defeated Knightstown 54-6 in the 4th round. Maher, Dance, Mobley, Chappell, and Hamilton all won by pin with Murphy, Nicholas, and Amberger receiving forfeits.
The 5th and final round came down to Batesville and host team Frankton with both teams unbeaten heading into the dual. Despite giving up 2 forfeits the Bulldogs won 7 out of 10 matches all by pin. Murphy, Nicholas, Maher, Dance, Chappell, Hamilton, and Garcia were able to win by pin to secure 42-27 victory and the Invite Championship.
Ther Bulldogs also took home an individual award with David Maher winning the award for most pins leading the bulldogs with 5 pins on his way to going 5-0. Also going 5-0 individually was Murphy, Nicholas, Dance, Chappel, Hamilton, and Garcia. Mobley ended the day with 4 wins. Andrew Jones also competed and went 2-0 in JV competition.
We thank coaches Curtis Miller and Jim Tush for the information.