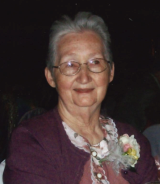 Dorothy Leibecke, 87, of Aurora, Indiana, passed away Saturday, May 27, 2023, in Aurora, Indiana.
She was born June 20, 1935, in Booneville, KY, daughter of the late Ike Smith and Jalie (Gabbard) Smith.
She was a member of Loving Grandmothers Club.
Dorothy loved to play BINGO. She previously volunteered at the Clearing House. Dorothy enjoyed helping others and loved spending time with her family.
Dorothy is survived by her six children, Isac Leibecke of Aurora, IN, Terry Leibecke of Aurora, IN, Darrell Riley of Aurora, IN, Rita Hopper of Aurora, IN, Vicky Grigsby of Lawrenceburg, IN, Carol (Jerry) Teegarden of Butler, KY; sister, Myrtle Butler of Fairview, IN; eight grandchildren and several great-grandchildren.
She was preceded in death by parents, Ike and Jalie Smith; husband, William Leibecke; son, Bobby Leibecke; siblings, Kelly Smith, Willard Smith, Beulah Herald; special friend, Marvin Curlin.
Friends will be received at the Life Church Activity Center, 201 W. Conwell St., Aurora, Indiana, Sunday June 11, 2023 from 1pm-4pm.
Contributions may be made to the Alzheimers Association.
Visit: www.rullmans.com