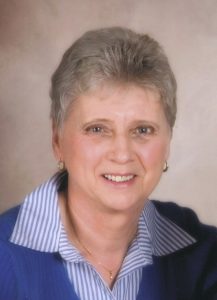 Doris Maxine Gay (nee Foist) age 85, passed away on June 7, 2023 at Morning Breeze Healthcare Center, Greensburg, IN.  She was born on October 10, 1937, in the family farmhouse near Sardinia.  She was the daughter of Charles K. Foist and Pauline Dot (Hines) Foist.
Doris was a lifelong resident of Decatur County.  She was a graduate of Jackson High School, class of 1955. Shortly after high school she became employed at Childress, Weimer, and Weigel O.D. in Greensburg as an optometric assistant.
On December 18, 1959, she married Lester G. Gay in Forest Hill, IN.  They met on a blind date, dated for 6 months, and were married.  Doris and Lester were blessed to celebrate 63 years of marriage. They are parents to Wanda and Keith.
In the early years of their marriage, Doris worked at the Optometry office and evenings at Gay's Photography Studio on the square.  She handled scheduling and bookkeeping until they retired the business in 1983.  After 34 years at Childress, Weimer, and Weigel, Doris retired and ventured into the political arena.  She was elected Decatur County Treasurer and served from 1989-1997. She was a member of First Christian Church, Greensburg.
In retirement Doris and Lester were able to travel, enjoy house projects and 4 grandchildren. Her hobbies included collecting rolling pins and tea pots which took them to many quaint towns and shops. Her love of themed Christmas tree decorating and gifting Nutcrackers over many years to her grandchildren will be a fond and lasting memory.
Doris is survived by her husband, Lester; son, Keith Gay of Greensburg; daughter, Wanda (Mike) Deiwert, of Stow, OH; grandchildren, Brandon Gay of Greensburg; Kyle Deiwert of Hartville, OH; Tyler Deiwert of Cuyahoga Falls, OH; Mara (Chance) Jones of Akron, OH; Sara Deiwert of Hartville, OH; great grandchildren, Nova Lee Gay, Greensburg; Gracelynn Deiwert and Emma Isroff of Hartville, OH;   Sister, Martha (Wayne) Evans of Dayton, OH; and Nieces, Lori Evans (Eric Hsu), of Butler, New Jersey, and Susan Iacobacci of Dayton.   She is preceded in death by her mother and father.
Visitation will be held at Gilliland Howe Funeral Home, Greensburg, IN on Friday, June 9, 2023 from 11:00 am until the time of the Funeral at 1:00 pm with burial to immediately follow at South Park Cemetery.  Donations can be made to American Cancer Society.  We the family of Doris express many thanks to the nursing Staff of Morning Breeze and Genevia Hospice.
"You are always with us, whether near or far.  We are connected by the heart". unknown