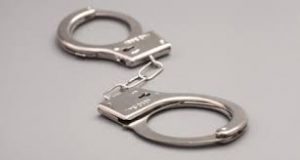 Columbus, IN—Columbus police officers arrested a man Monday evening after he reportedly overdosed on fentanyl inside his vehicle. A CPD officer was also transported to the hospital as a precaution after being exposed to the drug.
At approximately 5:10 p.m., CPD officers responded to a parking lot on North National Road in regards to an overdose. The officers arrived a short time later and located Jonathan K. Mings, 27, of Columbus, unresponsive in a vehicle. The officers administered two rounds of Narcan to Mings who eventually became conscious.
While speaking to Mings, the officers observed drug paraphernalia inside his vehicle as well as small white colored rocks which was later determined to be fentanyl. While packaging the fentanyl, it became airborne causing an officer to possibly become exposed to the drug. The officer was transported to Columbus Regional Hospital as a precaution where he was later released.
Mings was also transported to the hospital for treatment and after being discharged, he was placed under arrest an allegations of Possession of a Controlled Substance and Possession of Drug Paraphernalia.