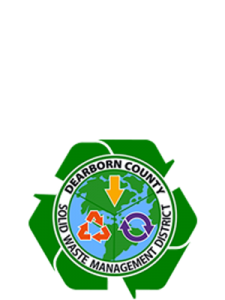 Aurora, IN—The Dearborn County Recycling Center Drive-Thru will be open on Saturdays during the month of March from 9 am-3 pm. The Drive-Thru is exclusively for Dearborn County residents and businesses. Fees are accepted in cash or check. Additional fees apply for businesses and are detailed online.
Dearborn County residents are encouraged to bring items such as electronics, non-alkaline batteries, mercury products, appliances, automotive chemicals, garden and workshop chemicals, and household chemicals. Some items, such as televisions, freon appliances, and tires are accepted with payment of a fee.
General recyclables including office paper, magazines, newspaper, cardboard, aluminum cans, glass bottles and jars, plastics bottles and jugs, cartons, metal cans, and empty aerosols are also accepted in the Drive-Thru.
A Document Shredding service is offered for confidential documents such as tax forms, medical records, and financial statements. It is not intended for items such as magazines or junk mail. Shredding is free for county residents. Fees apply for business customers.
The Drive-Thru is located at the Dearborn County Recycling Center at 10700 Prospect Ln, Aurora, IN 47001. Normal operating hours are Monday-Friday 9 am-4 pm and Wednesdays from 9 am-6 pm. The special Saturday hours are only during the month of March. For a comprehensive list of accepted items, residents are encouraged to visit our website by clicking here.