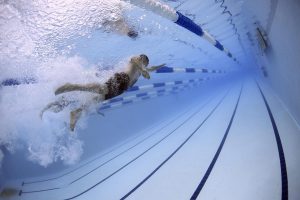 The Batesville High School Men's and Women's Swimming teams visited Milan Tuesday night to participate in a slightly altered meet set up with the host Indians.
"Today was all about breaking up the monotony of winter training," said Bulldogs Coach Greg McMullen. "Steve and I have been having conversations about changing the meet layout to incorporate some 50's and this is where we decided to do it."
With some coordination and communication, BHS and Milan swam a meet that consisted more of 50's and 100's while reducing the distance event from a 500 to a 400. McMullen noted, "relays were consistent with the traditional meet setup as we didn't want to change too much and add unnecessary confusion."
At the end of the day, Milan prevailed in the men's meet beating the Bulldogs by a margin of just two points. "Coach Stock and I had a laugh after the results came in, we both were watching the meet and enjoying the swims neither one of us truly realized how close of a meet we were running."
On the women's meet, the Lady Bulldogs were able to defeat the Indians while taking a number of top 2 and 3 finishes in a few different races. "Our latest mantra has been Win the Lane and our ladies have done a great job of living that out these last few meets and weeks. As we continue through winter training we'll be focusing in on the little things to continue improving our racing skills."
TEAM SCORES
Men
Milan 108, Batesville Bulldogs 106
Women
Batesville Lady Bulldogs 163, Milan 99
BULLDOG WINNERS
Men
200 Medley Relay (1:58.81) — Joseph Shroder, Sean Callahan, Ciaran Tyrer, Will Johnson
Johnson — 200 Freestyle (2:08.24), 400 Freestyle (4:35.77)
Callahan — 100 IM (1:02.97), 50 Breast (32.31)
Tyrer — 50 Fly (27.93)
400 Free Relay (4:32.81) — Anthony Martin, Adam Hollowell, Johnson, Callahan
Women
200 Medley Relay (2:25.88) — Taylor Blanton, Paige Oldham, Maria Lopez, Miriam Krieg
Sonja Gaulin — 100 IM (1:15.20)
Lopez — 50 Fly (32.34)
200 Free Relay (2:04.38) — Oldham, I. Wonnell, Lopez, Gaulin
Oldham — 50 Breast (40.49)
400 Free Relay (4:55.95) — Lilly Wonnell, Lily Gellenbeck, I. Wonnell, Gaulin
NOTABLES
Personal Bests: Adam Hollowell, 50 Free; Miriam Krieg, 100 Free; Joseph Shroder, 50 Free; Claire Sunderman, 100 Free; Cara VanSickle, 50 Free;
BHS Men's team won 7 events including two of the three relays. The women won all three relays and 6 total events.
UP NEXT
Batesville will be heading to Shelbyville to participate in a 3-team meet against the Golden Bears and Indianapolis Bishop Chatard on Jan 7, 2020 before heading to East Central for the EIAC Conference meet on Friday (women) and Saturday (men).