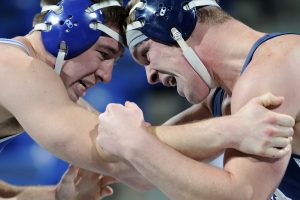 Batesville Wrestling ended 2020 by traveling to Frankton. Despite having only 8 wrestlers competing the Bulldogs went 3-2 while losing only 7 out of 30 matches wrestled.
The day started with every Bulldog getting a win in a 45-30 victory against Madison-Grant. Despite winning 5 out of 7 matches wrestled the Bulldogs lost to the host school Frankton 48-27. Batesville had 6 bulldogs win in their 39-36 loss to Lutheran. Batesville got their second win of the day with a 36-12 victory against Knightstown. Batesville ended the day with a 39-28 victory against Eastern Hancock. The Bulldogs season record moved to 9-12.
Batesville had 2 Bulldogs go 5-0 winning their weight classes with Juniors Alex Murphy at 126 and Josh Mobley at 152. Freshman Mason Neely went 4-0 at 138 while Jonathan Lamping (120), Tyler Schaeffer (132), and Jacob Weigel (182) also had 4 wins. Tacoma Nicholas (113) and Chase Hamilton (195) each had 3 wins.
The Bulldogs will open the new year at Centerville on January 9th.
Dual Scores
Batesville 45 Madison-Grant 30
Frankton 48 Batesville 27
Lutheran 39 Batesville 36
Batesville 36 Knightstown 12
Batesville 39 Eastern Hancock 36
Courtesy of Bulldogs Coach Curtis Miller.