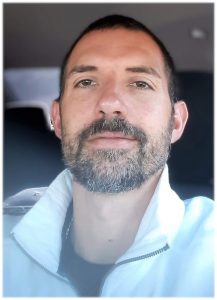 Brannon Douglas McGuire, 37 of (Dillsboro, Indiana) passed away on March 30th, 2023. Brannon was born on October 21st, 1985 to Douglas McGuire and Cheryl Pepple in Austin, Texas.
Brannon was a kindhearted person who loved to help others before himself. Always approaching loved ones with a huge bear hug, he will be forever cherished by the countless lives he touched. He was a gravitational figure people were drawn to without exception. His presence will be greatly missed by all.
A truly complex and multifaceted person, Brannon seemed to naturally excel at any and all tasks. From being a skilled artisan who placed great pride in his craft, to being a natural athlete in any sport. He did it all with ease. Brannon built his own construction business that has changed the lives of countless families by enhancing their quality of life. His timeless work will continue to be enjoyed by generations to come. When not enjoying his family or working, it would not be uncommon to find Brannon passionately cheering for the Denver Broncos or creating a masterful playlist of the music that touched his life.
Although there are too many qualities and personal attributes that will stand out to any number of people; foremost among them was his faithful, bottomless, and fierce love for his family and friends.
Brannon McGuire is survived by his family: Felicity, Jacob, Sharlotte, Maveric, and his fiancé, Ashley Draffen. He is also survived by Cheryl Pepple (mother), Douglas McGuire (father), Jessica Counts (sibling), Lirah Nikki (sibling), Kayleigh Shampoe (sibling), and many other family members and caring friends.
The celebration of life service will be held at 6:00 PM on Thursday, April 6th, 2023 at the Filter-Devries-Moore Funeral Home (12887 Lenover Street, Dillsboro, IN 47018) with visitation beginning at 4:00 PM.
In lieu of flowers, the family requests memorial donations be made to his children via GoFundMe at https://gofund.me/ad207a16.
Filter-DeVries-Moore Funeral Home has been entrusted with arrangements, 12887 Lenover Street, Box 146, Dillsboro, IN 47018, (812) 432-5480. Please visit our website at www.filterdevriesmoore.com to share your condolences and memories of Brannon.