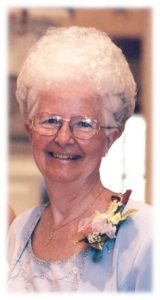 Phyllis A. (Weeks) Kohlmeier of Milan passed away at the age of 94 at Margaret Mary Hospital in Batesville, Indiana on Thursday, March 30, 2023 with her loving family by her side. Phyllis was born on Tuesday, July 10, 1928 in Lawrenceburg, Indiana, daughter of James and Irene (Arnold) Weeks. Phyllis was married to her loving husband Thomas Kohlmeier on June 28, 1947 and he preceded her in death on October 14, 1995. Phyllis was a life-long member of the Milan United Methodist Church. Phyllis did volunteer work at Margaret Mary Hospital, was a member of a local bridge club for women and was also a member of the Milan American Legion Ladies Auxiliary. Phyllis enjoyed playing bridge, playing golf, going on vacation with family, and loved spending holidays such as Christmas and Thanksgiving with her family. Phyllis most of all cherished the time spent with her loving family.
Phyllis will be missed by her son Thomas "Tom" (Shelley) Kohlmeier of Noblesville, Indiana; 7 grandchildren; 8 great-grandchildren; and 2 great-great grandchildren.
Phyllis was preceded in death by her parents James and Irene Weeks; husband Thomas Kohlmeier; and son Douglas Edward Kohlmeier.
Family and friends may gather in remembering Phyllis from 10:00am – 12:00pm Saturday, April 29, 2023 at the Milan United Methodist Church, 306 S Main St, Milan, IN 47031. Milan Ladies Auxiliary service will take place at 12:00pm with a funeral service to immediately follow with Pastor Deb Beason officiating. Burial will take place in Craven Cemetery. Memorials may be given in honor of Phyllis to the Milan United Methodist Church.
Laws-Carr-Moore Funeral Home has been entrusted with arrangements: 707 S. Main Street, PO Box 243, Milan, IN 47031, (812)654-2141. Please visit our website at www.lawscarrmoore.com to share your condolences and memories of Phyllis.