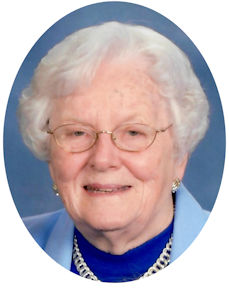 Betty R. Miller, age 90, passed away on Saturday, May 20th at the St. Andrews Health Campus.  She was the only child of Clarence and Helen (Taylor) Jager and was a lifelong resident of the Batesville community. As a member of St. Paul's Lutheran Church (Crossroads), she was active in many of its activities.
She was born on June 17,1932 and graduated from Batesville High School in 1950.  In 1955 she married Keith E. Miller and they were blessed with a son, Brian in 1957 and daughter Melinda in 1959.
Betty's first job was with Hillenbrand's Industries.  She later owned and operated the Montgomery Ward Catalog Sales Store along with her husband from 1977-1986.  In addition, she was a devoted mother and lovingly cared for Melinda and Brian as well as her parents.  In later years, her grandchildren became an endearing focus of her life.
She was preceded in death by her parents, husband, and daughter.  Survivors include her son Brian, grandsons Alex and Jason, and great grand-daughters Amelia and Alice.
Betty enjoyed traveling and socializing with a wide circle of friends. Paul Mang's family was an intricate part of Keith and Betty's life.  Paul Mang, Jr. and his sister Melanie claim Betty as their second mother.  Their children and grandchildren spent lots of time with Betty and always regarded her as a grandmother.
Visitation is Thursday, May 25th from 4 – 7 p.m. at the funeral home. Funeral services are 10 a.m. Friday, May 26th also at the funeral home.  Burial will follow in St. John's Lutheran Cemetery at Napoleon.  The family requests memorials to the St. John's Lutheran Cemetery Fund or St. Paul's Lutheran Church Crossroad Endowment Fund.