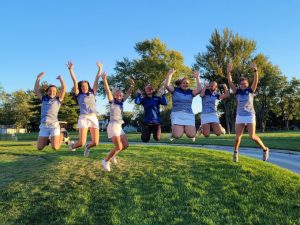 We continue our look back at the top sports stories we reported during 2021.  Here now are "some" of the fall and early winter sports season highlights.
Indiana native, veteran radio and television broadcaster and former "Voice of the 500" Bob Jenkins passed away at age 73 after a valiant fight with cancer.
Covid canceled a big football rivalry game…the Bucket Game between North and South Decatur.
Former Batesville baseball standout Bryan Hoeing earned Pitcher of the Month honors in the Class High-A Central League.  He pitches for the Beloit Snappers of the Florida Marlins organization.
Batesville Girls Golf won the Ripley County and EIAC championships.  The Lady Bulldogs went on to win sectional and placed third in the regional to earn its first ever team appearance at the state finals.
Individually, Emma Weiler set a new 18-hole school record with a score of 67 at the sectional. Weiler also earned All-State honors for a third straight year.
South Ripley Volleyball won its first Ripley County title since 2015 and also won the ORVC.
Jac-Cen-Del's Aundrea Cullen became the volleyball program's new career digs leader.
Greensburg and South Ripley both won volleyball sectionals.  The Lady Pirates also won a regional semifinal to advance to the Elite 8 for the first time.
South Decatur Boys Cross Country won the Mid Hoosier title.
Batesville swept the EIAC cross country crowns.
East Central's Rachel Campbell and South Ripley's Lanie Nicholson qualified for state in cross country.
South Ripley's Zach Gentile broke the boys soccer program's single season scoring record.
Jac-Cen-Del and South Ripley were co-ORVC boys soccer champions.
Milan was a girls soccer co-ORVC champ with Switzerland County
East Central's boys and girls soccer teams won the EIAC and sectional championships.  The Lady Trojans advanced to the regional finals.
In boys tennis, Franklin County's Jack Stirn won the EIAC at first singles, won sectional, won regional and made it to the state final four.
Batesville High School announced substantial upgrades to outdoor sports facilities.
East Central girls basketball coach Kevin Moore won his 200th career game.
The Trojan football program won its 20th football sectional title.
Former Batesville and Indiana State basketball great Michael Menser was named to the 2022 Indiana Basketball Hall of Fame Silver Anniversary Team.
And Milan swimmer Ariel Haessig broke the school record in the 100 fly.