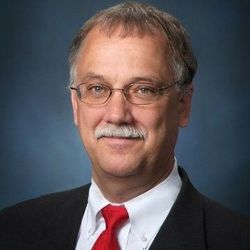 James Henry Yager, age 69, of Sarasota, Florida, passed away on Monday, December 20, 2021 at his home.
Jim was born in Rushville, Indiana on October 16, 1952 to the late Henry and Mary (Moorman) Yager.
Jim grew up on a farm in Decatur County.  He graduated from North Decatur Jr/Sr High School in 1971.  He graduated from the University of Dayton with a degree in mechanical engineering in 1975.  He received his MBA from the University of Cincinnati in 1980.
He worked for White Farm Equipment in Libertyville, Illinois, GE Aircraft Engine Group in Evandale, OH, Cummins Engine in Columbus, IN and Rocky Mount, NC, Navistar International in Chicago, IL, General Electric in Erie, PA, AVL in Plymouth, MI, and Ricardo & Tenneco in Michigan.
He was married to Lisa Carlson on November 8, 2008 and she survives.
He is also survived by one daughter, Katy (Michael) LaBarbera, North Carolina; one son, Daniel (Sara) Yager, Mississippi; five grandchildren, Gabriel Yager, Richard Fox, Julianna LaBarbera, Ross LaBarbera, and Crystal Yager; three brothers, Don (Kim) Yager, Greensburg, Paul (Lorraine) Yager, Connecticut, Jerry (Beverly) Yager, Greensburg; two sisters, Janet (Gus) Litmer, Greensburg, Ann (Mike) Koors, Greensburg.
He was preceded in death by his parents; daughter, Elizabeth Fox; one sister, Betty Anthony.
Visitation for family and friends will be held on Monday, January 3, 2022 from 9:00 to 11:00 a.m. at the St. Catherine of Siena Catholic Church St. Maurice Campus.  A Funeral Mass will follow at 11:00 a.m. with Rev. Bill Ehalt officiating.  Burial will be held in the Springhill Cemetery in Decatur County, Indiana.
Online condolences can be made to the family at www.popfuneralhome.com