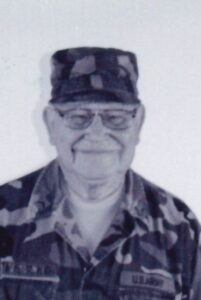 Wilford Ross Hussung, 85, of Aurora, IN, passed away Friday, November 17, 2023.
He was born December 23, 1937, in Moores Hill, IN, son of the late Stanley Ross Hussung Sr.and Edith Sheriff.
He served his country as a member of the United States Army during to Cold War and was stationed in Germany.
He worked as a Laborer for Hillenbrand, retiring after over 36 years of service.
He was a member of Church of God where he served on the church board.
Wilford enjoyed everything outdoors including hunting, fishing, working on cars, cutting trees and landscaping. He loved to dance with his wife Libby.
Wilford is survived by his loving spouse, Elizabeth (Randall) Hussung, children, Faith (Chuck) Casey of Cincinnati, OH, Charity Hussung of OH, Edith Mary Hatcher of Aurora, IN, Richard Gardner, Jr. of Aurora, IN, Stanley Ross Hussung of Aurora, IN, Teddy Hussung of Lawrenceburg, IN; siblings, Rosey Holt of KY, Connie of Indianapolis, IN; 16 grandchildren; 15 great grandchildren and several nieces and nephews.
He was preceded in death by father, Stanley Ross Hussung, Sr.; Mother, Edith Sheriff; children, James Hussung, Gerald Lee Kinnett Sr., Harold D Kinnett; siblings, George Hussung, Vicky Willlman, Wilma Hussung and Doris Hussung.
Friends will be received at the Rullman Hunger Funeral Home 219 Mechanic St. on Monday November 20, 2023 from 6-8PM
Services will be held at the funeral home on Tuesday at 11AM with Pastor Don Pierce officiating.
Interment will follow in the River View Cemetery, Aurora, IN. Military graveside services will be conducted by the Southeastern Indiana Honor Guard.
Contributions may be made to the St. Jude Children's Hospital.
Visit: www.rullmans.com