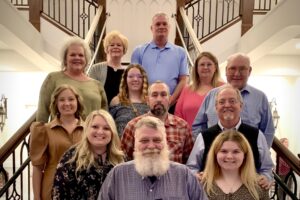 (Greensburg, IN) – A record crowd of more than 230 people attended the Greensburg/Decatur County Chamber of Commerce Annual Dinner Friday night at Heritage Hills Events Center – which is in the former St. Mary's Catholic Church.
The prestigious Don Horan Service Leader of the Year award was presented to Mark Carman.
"To be honored with someone named after, not only a classmate of mine but also a very good friend of mine from high school, someone who left a legacy of service before self…it means more than words I can even come up with," Carman said.
Among Carman's accomplishments and ways he gives back:
United States Marine Corps veteran;
Serves as one of "Santa's Helpers" around the holidays and donates his time to various non-profits in that role;
Has served many years on the Tree City Fall Festival Committee, including several as chair;
Participates in the Overpass Patriots flag-waving group on patriotic holidays;
Employed by Best Way and takes part in the company's "Adopt A Family" initiative during the holidays, and,
Will be sworn in as an at-large member of Greensburg City Council in January.
The Entrepreneur of the Year Award went to Lora Williams from Williams Law Office.
The annual $1,000 Small Business Grant was presented to Lori Wilson with Scheidler Brothers Paint and Decorating.
Robin Carmer, owner of HillBilly Corner, was named Ambassador of the Year.
Lee Bohman was the Chamber's Scholarship Cash Bash top winner of $2,500.
The Chamber also announced that the keynote speaker for the 2024 Ag Day Breakfast on February 24 will be former Indianapolis Colts Punter Hunter Smith.
He was a member of the Colts' Super Bowl XLI championship team.
Smith now farms in the Zionsville area.