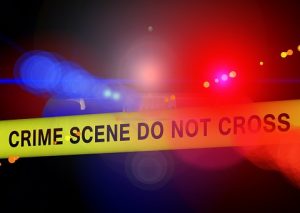 UPDATE: The murder suspect, who later died as a result of the officer-involved shooting in Rushville, has been identified as 34-year-old Benjamin Petry, whose last known address is North Vernon.
The Henry County murder victim has been identified as 65-year-old Ivan Wade Flowers of Kennard, Indiana.
Indiana State Police say the motive for the shooting is unknown at this time. However, investigators learned Petry and Flowers were acquaintances and the shooting is not considered to be a random act of violence.
See story below: 
RUSH/HENRY COUNTIES, IN — Two men are dead, including a suspect shot and killed by Rushville police officers, following a multi-county crime investigation being conducted by Indiana State Police.
It began around 11:30 last night when a shooting was reported at a home in Henry County. Investigators say the homeowner was woken up by someone knocking at the door. State Police say, when the homeowner opened the door, he was shot to death by a male suspect.
Authorities then put out a description of the suspect and his vehicle.
A vehicle matching the description was spotted by Rushville police officers traveling south on State Road 3 just after Midnight.
Police then followed the vehicle as it parked at a gas station on Main Street in Rushville, and waited for the suspect as he went into the store. When he came out, investigators say two officers gave him loud verbal commands. State Police say the suspect failed to follow the commands and reached for a holster, drew a handgun, and pointed it at the officers.  Both officers fired their department-issued weapons and the suspect was struck an undetermined number of times.
The officers administered first aid until medics arrived but the unidentified suspect was pronounced dead at the scene by the Rush County Coroner.
Neither of the officers involved was injured and both are on paid administrative leave during the investigation.
Original story:
RUSHVILLE, IN — An overnight officer-involved shooting is under investigation in Rushville.
The incident happened just after midnight at a gas station on Main Street.
Indiana State Police were called in to investigate.
No other details are available right now but additional information is expected later on.