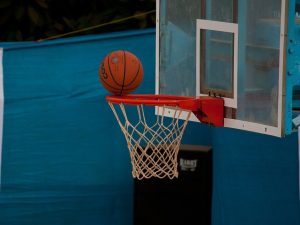 The following are junior high boys basketball recaps from Thursday, November 11.
The Jac-Cen-Del seventh grade beat Southwestern Hanover 37-14.  Blake Wagner recorded 16 points, 12 rebounds and two steals.  Darian Grishop posted 12 points, five caroms and five steals.  And Neil Sullivan turned in five points, seven boards, and four swipes.
The Rebels defeated the Eagles in the eighth grade contest, 44-12.  For JCD, Lane Carroll had four points and five rebounds to lead Jac in both categories.  Kellar Vatchet added three points and three boards.
South Ripley's seventh grade pulled away in the second half to down Rising Sun 39-26.  For the Raiders, Drew Volz racked up 19 points.  Eli Gilpin netted eight and Dylan Jesse chipped in five.
For the Sun, Tyler Christian scored 12.
Meanwhile the Ripley eighth came from behind then held off the Shiners to win 34-31.  Bryson Sipples led the Green and White with 12 points.  DJ Williams headlined the Blue and White with a game-high 19 points.
The Crosstown Shootout between Batesville and St. Louis was held at St. Lou.  The Bulldogs won both matchups.
The seventh grade Dogs beat the Cardinals 33-28.  BMS got 11 points from Caleb Laker and nine from Carson Hartley.
Batesville took the eighth grade game 53-41 led by Brayden Maple's 18 points.  Trenton Leurs followed with 15.  The Redbirds Jaiden Kuria had a game-high 23 points. Teammate Caleb Mohr added nine.
Milan's seventh grade defeated Greendale 23-21 on a last second shot by Grant Langfermman.
The Bengals beat the Indians in the eighth grade contest, 27-20.
We thank everyone who contributed to the recaps.