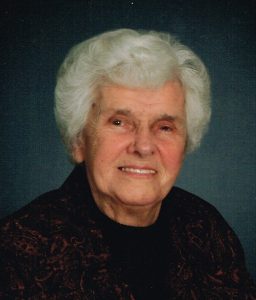 Teresa Caroline (Wickens) Bruns (92) died on May 30, 2022 and was one of eleven children of James Paul Wickens and Sarah Margaret (McCann) Wickens.  She was born on Christmas Day, December 25, 1929, on the family farm in Jennings County, near North Vernon.
Teresa is survived by six of her seven children:  Dale "Tony" Anthony (Christina) Bruns, Donna Marie (Jerome) Bruns Stockrahm, Thomas Joseph Bruns, James Alfred (Christine) Bruns, Timothy Dale (Karen) Bruns, Teresa "Tess" Margaret (John) Bruns Boldrey, and one sister, Mabel Ann (Wickens) Byers.  She is also survived by 14 grandchildren and 8 great grandchildren.
She is preceded in death by her husband, Dale Edward Bruns, her daughter, Holly Ann Bruns, and her other siblings:  John Patrick Wickens, Kathleen (Kate) Margaret (Wickens) Daeger, Florence Virginia Wickens, James Donald Wickens, Hugh T. Wickens, Daniel Wickens, Majorie (Mert) Ellen Wickens, Mary Louise Wickens, and Philip E. Wickens.
Teresa grew up on the farm and graduated from St. Mary's Grade School at North Vernon.  She sang the Latin Mass for eight years while in grade school, and later joined the adult choir at St. Mary's Catholic Church at North Vernon.  She also worked for Arvin Industries as an inspector.
She met Dale Edward Bruns, who was recently back from WWII, at a dance at the Knights of St. John in Millhousen, Indiana.  Teresa and Dale got married on May 10, 1950, in North Vernon.
As newlyweds, Teresa and Dale lived in North Vernon, Indiana, and later moved to Millhousen, Indiana, where they lived for over 50 years.  Both Teresa and Dale were active in the community and the Immaculate Conception Catholic Church in Millhousen.  They also volunteered to serve in fund-raising for the Archdiocese of Indianapolis.
Teresa was active as a volunteer for the Red Cross at the Decatur County Memorial Hospital at Greensburg, Indiana.  She served for several years as a 4-H Leader to the Peppy Steppers 4-H Club in Millhousen and also helped with Cub Scout activities.
Dale and Teresa raised Irish (Red) Setter Bird dogs in addition to raising her seven children.  She was an excellent baker and had great skills at canning and preserving all sorts of vegetables and fruits for her family.  She enjoyed various crafts, especially ceramics.  She was very generous with her time by visiting friends and neighbors in nursing homes and sending cards to acknowledge birthdays, anniversaries, holidays, and special occasions.
Family and friends will gather at 3:30 p.m. on Thursday, June 2, 2022 at the St. Mary's Catholic Church in Greensburg to pray the rosary. Visitation will follow until 7:00 p.m. Visitation will also be held at Immaculate Conception Catholic Church in Millhousen on Friday from 10:30 until the funeral Mass at 11:30 a.m. with Rev. John Meyer officiating. Interment will be held in the Immaculate Conception Cemetery in Millhousen.
Memorials may be made to the Immaculate Conception Catholic Church.  Online condolences can be made to the family at www.popfuneralhome.com