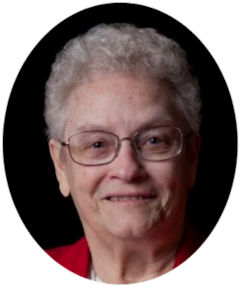 Sr. Rachel Lindenmaier, age 86 of the Srs of St. Francis, died April 7, 2023 at Christ Hospital in Cincinnati. Born on June 20, 1936 in Indianapolis, Indiana, she was the fourth of four children born to Alma (Nee: Burkhart) and Sylvester Lindenmaier.
Both Rachel and her twin sister Evelyn chose a religious calling, professing their final vows on the same day in 1961. Their mother had a wonderful comeback for people who commented that it was a shame both of her daughters had entered religious life. "They're not mine," she would say. "God only lent them to me."
Rachel attended Sacred Heart, St. Roch and St. John Academy, all in Indianapolis, prior to graduating with an education degree from Marian University in 1962. She taught for 35 years with most of her teaching experience at inner city and economically disadvantaged schools. Her ministry also included domestic work for the elderly, teleministry at St. Anthony Messenger, working in the vocation office for the Franciscan Friars and serving as housekeeping supervisor at the convent.
With her community reputation of being "Sister Fix-It", it was no surprise when Rachel started her own "Handy Home Sister" business to help the elderly with routine cleaning, simple repairs and emergency transportation needs. She was uniquely qualified for these tasks due to her years of working side-by-side with her father and brothers. Both Rachel and her sister Evelyn had an interest in crafts, especially woodworking, and started the E & R Hobby Shop after they retired to the Motherhouse in 2009. Rachel was also a sports enthusiast.
When asked what was her most fulfilling ministry, Rachel responded, "I found that teaching the economically disadvantaged was so gratifying because the students really wanted to learn. Being in those schools also gave me the opportunity to serve the people in ways that were beyond the classroom. I learned so much from the people about spirituality."
Survivors include her brother Norbert Lindenmaier of Indianapolis and her twin sister Sr. Evelyn Lindenmaier of Oldenburg, along with many extended family members. She is preceded in death by her parents and brother Arnold Lindenmaier.
 Visitation will be Thursday April 14th from 1:30 – 3:00 p.m. at the convent chapel. Funeral services follow at 3:00 p.m. with Rev. Kenneth Overberg, SJ officiating and burial will be in the convent cemetery. For those unable to attend, services will be live-streamed at https://youtube.com/live/hnuafyDZvSE?feature=share. Memorials may be made to the Sisters of St. Francis, P.O. Box 100, Oldenburg, Indiana, 47036 (www.OldenburgFranciscans.org).  For online condolences go to www.weigelfh.com