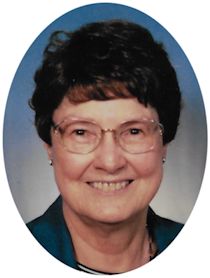 Sr. Mary Paul Larson, age 92 of the Sisters of St. Francis in Oldenburg, died January 17, 2022 at the convent. Born on May 6, 1929 in Vincennes, Indiana, she was the oldest of six daughters born to Mary (Nee: Arnold) and Paul Larson.
She attended LaSalle and St. John the Baptist elementary schools in Vincennes and St. Mary of the Woods Academy in St. Mary of the Woods, Indiana and later Rose Academy in Vincennes for high school. From an early age she helped in the family's grocery store and at thirteen she began working as a soda fountain waitress. Throughout her early life she learned to play several musical instruments, sang and enjoyed writing poetry, while also having expressed an interest in religious life.
Sr. Mary Paul enrolled at Marian College where she met the Sisters and as she noted in her autobiography, "Once I met the Oldenburg Sisters, my life was changed. No more wondering about becoming a Sister. God had led me to the right spot. Each step of the way I felt called and led and somehow knowing that God would provide the path and the strength."
Her path included earning a degree in education at Marian, a degree in music at the University of Dayton and a master's degree in elementary education from Xavier University. Her teaching career included the following Indiana schools: St. Michael's, Holy Trinity and Our Lady of Lourdes in Indianapolis; St. Joseph's in St. Leon; Holy Family in Richmond and St. Wendel in Evansville. In addition, she taught for four year at St. Athanasius in Roseville, Michigan. From 1976-1982 Sr. Mary Paul served as an education instructor at Marian College and in 1983 as their Supervisor of Student Teachers. After a sabbatical, Sr. Mary Paul served as a Pastoral Minister and religion teacher at St. Charles parish in Pryor, Montana beginning in 1984 and serving there until her retirement in 2000.
In retirement, Sr. Mary Paul kept busy reading, writing poetry, playing music and creating crafts. In her later years she commented, "My parents, especially my father, are responsible for nurturing my vocation. My father taught me how to pray and to love the Eucharist by accompanying me to daily Mass as soon as I made my First Communion. He shared the love of church and religion in word and example and until the time of his death, was my greatest source of support in religious life by his prayers and advice."
Survivors include sisters Phyllis Boehm and Kathleen Larson of Indiana, brother-in-law Morris Reel of Michigan and numerous nieces and nephews. In addition to her parents, she is also preceded in death by sisters Alma Greenburg, Judith Wilkinson and Paula Reel.
Visitation will be Friday, January 21st from 1:00 – 3:00 p.m. at the convent chapel. Funeral services follow at 3:00 p.m. with Rev. Vincent Lampert officiating with burial in the convent cemetery. Guests who have been vaccinated are welcome to attend but masks are mandatory. For those unable to attend, services will be live-streamed at https://youtu.be/3Oom0tEH6lQ. Memorials may be made to the Sisters of St. Francis, P.O. Box 100, Oldenburg, Indiana, 47036 (www.OldenburgFranciscans.org). For online condolences go to www.weigelfh.com.