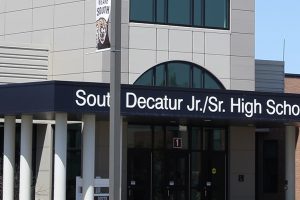 GREENSBURG, IN — South Decatur Jr./Sr. High School will be operating on an e-learning schedule the rest of this week. Decatur County Community Schools announced the move Tuesday afternoon via the following letter from Superintendent Dr. Jarrod Burns.
–
January 18, 2022
Dear South Decatur Jr/Sr High Families,
I wanted to make you aware that several students and staff members at South Decatur Jr/Sr High School have tested positive for COVID-19. Due to the high number of staff members that are out sick or contact traced, South Decatur Jr/Sr High School is switching to 100% virtual instruction for 3 school days starting Wednesday, January 19th until Friday, January 21st. South Decatur Jr/Sr High School students will return to school in person on Monday, January 24th. Please also know that South Decatur Elementary School is still going to school in-person during South High's closure. All South Decatur Jr/Sr High students should access Canvas on Wednesday morning for information on their individual classes.
All extracurricular activities will continue this week as long as coaches, athletes, club sponsors, and participants are healthy and not contact traced. If you have any questions please reach out to your child's head coach or club sponsor for more information.
To comply with privacy rights and laws, Decatur County Community Schools is unable to release any personally identifiable information about these individuals or those in the contact tracing process. The COVID-19 plans and procedures we developed in conjunction with the Decatur County Health Department, and input from Indiana State Department of Health, have allowed all those involved to respond appropriately and quickly.
This is an important reminder that social distancing, wearing masks, and proper sanitizing practices do work. Please continue to administer your own daily health assessments to watch for symptoms, and to keep home any student who exhibits symptoms.
Sincerely,
Jarrod Burns
Superintendent