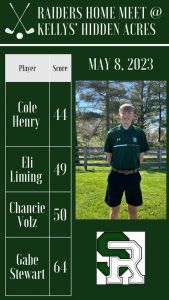 South Ripley hosted a match at Kelly's Hidden Acres on Monday vs. Milan, Switzerland County, Oldenburg, and Shawe Memorial. The Raiders placed 3rd out of the 5 teams with their season-low team score of 207. Three scorers from South Ripley shot their personal best scores of the season. Scores for South Ripley:
Cole Henry 44 (season-best score)
Eli Liming 49 (season and career-best score)
Chancie Volz 50 (season-best score)
Gabe Stewart 64
Milan placed 1st with a team score of 178, followed by Switzerland County 190, South Ripley 207, Oldenburg 210, and Shawe Memorial (incomplete team score).
Recap provided by South Ripley boys varsity golf coach Brad Goldsberry.