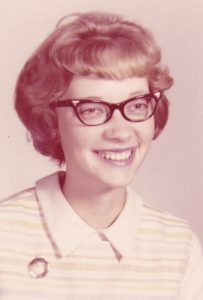 Shirley "Katherine" Shoopman, 79, of Columbus, passed away on September 19, 2023. She was born on September 26, 1943, in Milford, Indiana the daughter of Enoch and Lenora Powers Kirtman. Katherine was a 1961 graduate of Burney High School and a 1966 graduate of Ball State University. She married Stephen Shoopman on July 13, 1968, and together they had three children: Angela, Kimberly, and Matthew. Katherine attended the Bible Study Fellowship at the First Baptist Church of Columbus, for 20 years.
Survivors include: Husband, Stephen Shoopman; Children, Angela (Patrick) Hubbard, Kimberly Childers, and Matthew Shoopman; Grandchildren, Andrew Goddard, Alexander Hubbard, Christian Hubbard, Kyle Goddard, Justin Chumbley, Tyler Chumbley, Stephen Chumbley, Connor Shoopman, Noah Hubbard and David Shoopman; Great Grandchildren, Brayden Goddard, Hannah Goddard, Andrea Goddard, Hailey Chumbley, Kahlan Chumbley, Zachary Chumbley, Samuel Chumbley, Jace Chumbley, and Aurora Goddard; Siblings, Sharon (Bernie) Vernon, Enoch Kirtman II, Rock Kirtman, Lenora "Penny" Kirtman, and Chuck (Diane) Kirtman. She was preceded in death by her Parents; Great Grandchildren, Tatum Goddard and Jaxson Goddard; Sisters, Sherry Kirtman and Loretta Kirtman and Nephew, Sam Kirtman.
A visitation for family and friends will be held on Monday, September 25, 2023, at the Gilliland-Howe Funeral Home from 11:00 a.m. until the time of the funeral at 1:00 p.m. Patrick Hubbard will be officiating. Burial will follow at the Milford Cemetery. Memorial contributions can be made to Sans Souci Inc. Online condolences can be made to the family at www.gilliland-howe.com.