The 15u SEIclones traveled to Triton Central High School in Fairland, IN this past weekend and earned a runner-up finish in the 14-team field. The squad went (5-1) overall on the weekend, losing 53-49 to a solid Hickory Hoops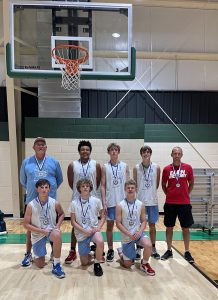 team from Southern Indiana in the title game.
Bracket play began early on Sunday with a victory over Midwest Explosion Black 58-31. Cayden Drake led the squad with 18 points, Brody Runnebohm 11, Trenten Luers 8, Logan O'Dell 6, Owen Rennekamp and Jaiden Kuria 5, and Logan Young 4.
Game two on Sunday was a dandy as the team defeated an outstanding CIA team from Central Illinois 66-65 on a designed play buzzer-beating 3-pointer by Trenten Luers in OT. Runnebohm led the squad with 22 points, Luers 15, Young 12, Kuria 7, Drake and Rennekamp 4.
Game three of bracket day was another thriller, as the young men defeated the Circle City Shooters out of Indianapolis 56-55 on a full-court, one-handed runner by Runnebohmas as time expired to send the team to the title affair. Runnebohm had 14, O'Dell 12, Kuria and Drake 10, Luers 6, Rennekamp and Young 2.
The title game was close throughout, and saw the SEIclones leading 28-27 at halftime. Second-chance points, some costly turnovers, and the Hickory's ability to hit free throws kept the team at bay. Luers led the way with 18, Runnebohm 13, Kuria 10, Drake 6, and O'Dell 2.
The squad finishes the Spring AAU season with an overall record of (17-15), 1 championship, and 3 runner-up finishes against elite completion around the Midwest.
Recap provided by Paul Drake.