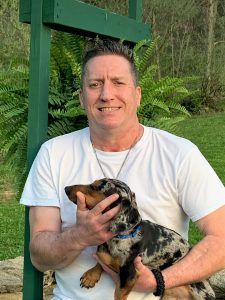 "Herbie" Harold E. Smith Jr., 49, of Aurora, formerly of Dillsboro, (Kathy Lockard of Lawrenceburg) passed away Sunday, May 21, 2023 at The Waters of Dillsboro. Herbie was born on Monday, April 29, 1974 in Jacksonville, Florida; son of Harold E. Smith Sr. and Hilda "Louise" (Norman) Smith. Herbie worked in bottling at Seagram's and was a member of the Lawrenceburg Eagles and Sons of American Legion of Aurora. He enjoyed fishing, wood carving, and playing sports such as basketball, football, and track. Herbie also holds track records at South Dearborn and won homecoming king at South Dearborn.
Herbie will be missed by his brother Clifford (Cindy) Riley of Patriot; sisters Sylvia Clark of Arizona, Fran Giammona of Florida, and Tina Smith of Dillsboro; as well as many nieces, nephews, great-nieces, great-nephews, and many loving friends.
Herbie is preceded in death by his parents Harold E. Smith Sr. and Hilda "Louise" Smith; brothers-in-law Jack Clark and Nicky Giammona; brother Robert Riley; and sisters Brenda Riley, Rosemary Smith, and Hilda Louise Smith.
A Celebration of Life will be held by the family from 4:00-10:00 PM, Saturday, July 29, 2023 at the Dillsboro Civic Center; 9824 Central Ave, Dillsboro, IN 47018. Memorials may be given in honor of Herbie to St. Jude Children's Hospital.
Filter-DeVries-Moore Funeral Home has been entrusted with arrangements: Box 146, Dillsboro, IN 47018, (812) 432-5480. Please visit our website at www.filterdevriesmoore.com to share your condolences and memories of Herbie.