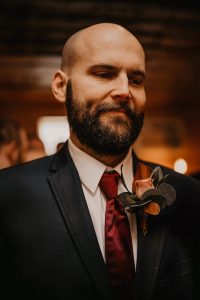 Ryan Evan Swineford passed away on Wednesday, September 20, 2023, at the age of 40. He was born on May 12, 1983, in Okinawa, Japan to Randy Swineford and Kim Miller.
He excelled as a quality technician at GECOM in Greensburg. Outside of his workplace, Ryan had several interests that brought him joy and fulfillment. He enjoyed playing golf and video games. He also had a love for the Chicago Cubs.
Ryan had a remarkable gift – the ability to make everyone he encountered feel not just welcomed but genuinely valued. His heart was as big as his spirit was bright. In a world that sometimes feels divided, Ryan was a unifying force, a reminder that goodness still exists. His impact on our lives is immeasurable, and we are forever grateful for the time we spent together.
Ryan is survived by his parents and loving wife, Danielle (Honeycutt) Swineford; children: Adriane, Ryder, and Aria; sisters: Brandy (Dave) Barr and Courtney (Wayne) Davis; several nieces, nephews, aunts, uncles, and cousins. He is also survived by his dogs, King and Riddick.
Ryan's legacy is one of love, laughter, and unwavering support. He was the life of every party, a source of positivity and happiness for all. While he had a talent for making people laugh, he also possessed a deeply compassionate side. Ryan would be there for you during your most challenging moments, a true friend. His memory will forever live on in our hearts, a reminder of the beauty of a life well-lived and the enduring impact one person can have on the world.
A visitation for family and friends will be held on Monday, September 25, 2023, from 2:00 p.m. to 6:00 p.m. at Porter-Oliger-Pearson Funeral Home in Greensburg. A celebration of life service will be held at 6:00 p.m. with Pastor Ray Sweet officiating. Memorial contributions can be made to the family in the care of the funeral home. Online condolences can be made at www.popfuneralhome.com.